Artificial Intelligence for Business
The Next Phase of Digital Transformation
Artificial intelligence (AI) is bound to redefine every industry vertical. Innovative methods for data collection, content creation, and large-scale automation are opening new opportunities for business along with unseen implications for companies, consumers, and society.
AI for Business will support students through research, curriculum, and experiential learning to investigate AI applications. In addition to student support, AI for Business will offer programs for current industry professionals.
Prasanna (Sonny) Tambe Joins Wharton AI for Business as Faculty Co-Lead
Wharton's AI for Business welcomes Prasanna (Sonny) Tambe, Associate Professor of Operations, Information and Decisions at the Wharton School, as the newest member of its senior leadership. Working alongside Faculty Co-Lead Kartik Hosanagar, John C. Hower Professor of Technology and Digital Business and a Professor of Marketing, Professor Tambe will guide AIB in its mission to help students and professionals expand their knowledge and application of machine learning while understanding the business and societal implications of AI.
Annual Analytics Conference
In partnership with Analytics at Wharton and Wharton Customer Analytics, AI for Business hosted the Annual Analytics Conference virtually on May 3-7. Industry leaders – including keynote speaker Jamie Moldafsky, WG'89, CMCO of Nielsen – spoke about the latest trends in business analytics.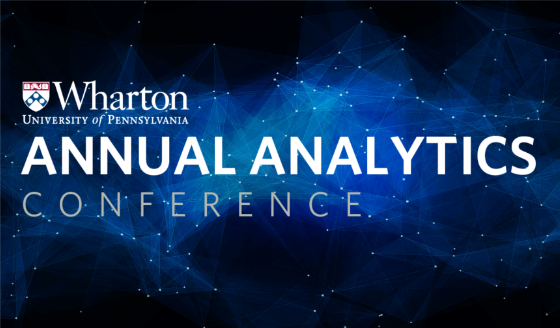 The AI for Business Award
AIB is proud to partner with the Penn/Wharton Venture Lab to offer the AI for Business Award for the 2021-22 Startup Challenge. This monetary award is given to the team that best exemplifies the usage of innovative artificial intelligence in their business model.
Artificial Intelligence at Wharton News
How to Kickstart an AI Venture Without Proprietary Data

Despite the tremendous innovation and entrepreneurial opportunities around AI, breaking into AI can be a daunting task for entrepreneurs as they face a chicken-and-egg problem before they even begin, something existing companies are less likely to contend with.
How Can Financial Institutions Prepare for AI Risks?
Artificial intelligence (AI) technologies hold big promise for the financial services industry, but they also bring risks that must be addressed with the right governance approaches, according to a white paper by a group of academics and executives from the financial services and technology industries, published by Wharton AI for Business.
Your Next Job Interview May Be With a Robot—Whether You Realize It Or Not

The use of artificial intelligence has become increasingly widespread in recruitment over the last few years. Candidates are often asked to complete video interviews or online tests without any awareness that an algorithm will be the first assessor of their application.
Artificial Intelligence Risk & Governance
Artificial Intelligence/Machine Learning Risk and Security (AIRS) believes there are significant potential benefits of AI and that its adoption within financial services presents opportunities to improve both business and societal outcomes when risks are managed responsibly. This white paper provides AIRS views on potential approaches to AI governance for financial services including potential risks, risk categorization, interpretability, discrimination, and risk mitigation.
A Human's Guide to Machine Intelligence
Kartik Hosanagar surveys the brave new world of algorithmic decision-making and reveals the potentially dangerous biases they can give rise to as they increasingly run our lives.
Featured AI Online Course for Professionals
Artificial Intelligence for Business is an online program for learners seeking a competitive edge in emerging business technology. Technology-oriented professionals, online marketers, statisticians, consultants, innovators, and data professionals will benefit from this 4-week certificate.
Get the latest from AI for Business