Wharton AI & Analytics for Business
Updates
Wharton AI for Business Identifies and Funds Promising AI-Related Startups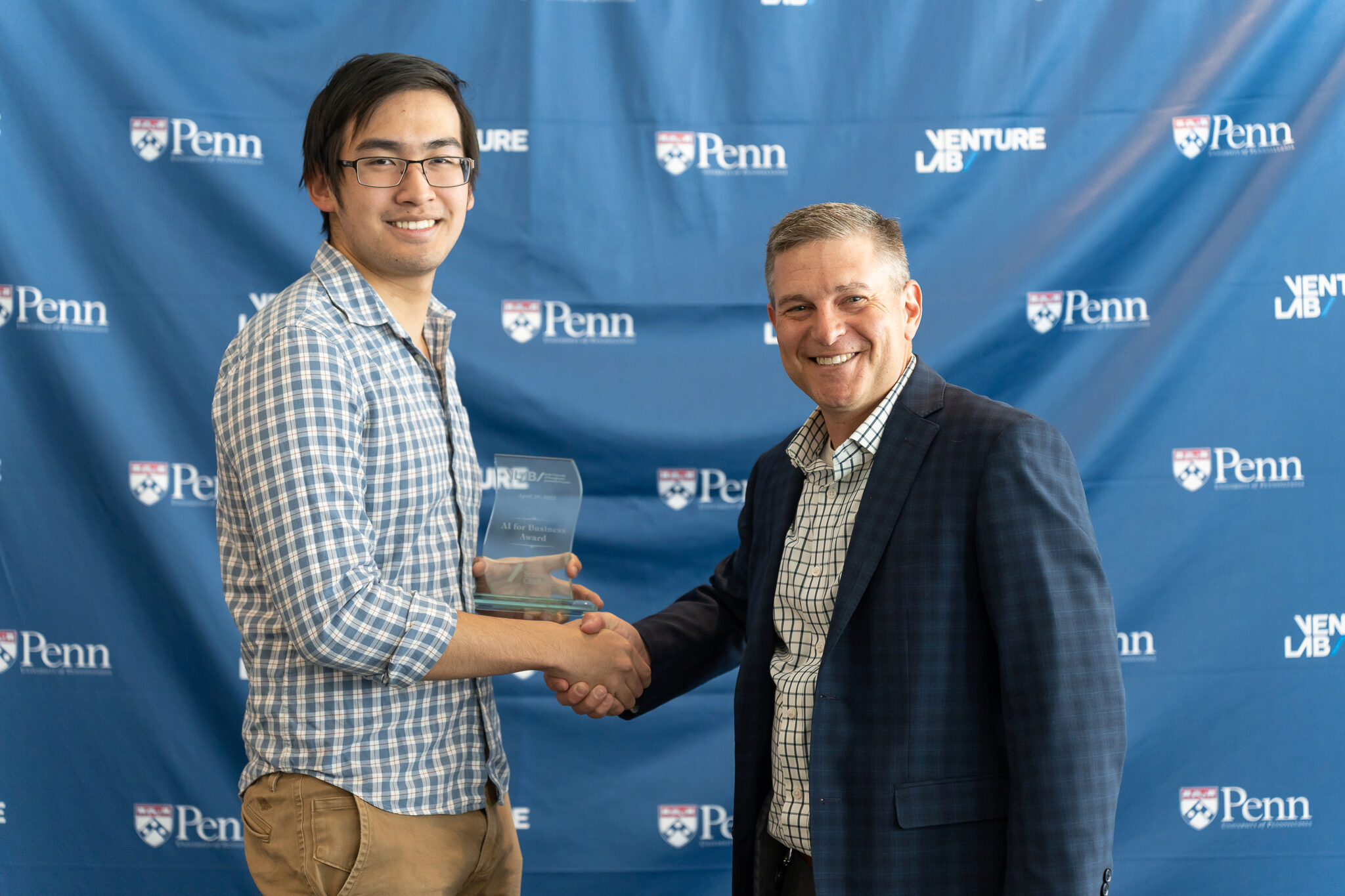 As part of the Venture Lab Startup Challenge, Wharton AI & Analytics for Business (AIAB) helps to identify and fund promising AI-related startups. This year, a panel of six judges – ranging from esteemed AI faculty to industry experts – received pitches from a competitive field of student entrepreneurs at the University of Pennsylvania. In the end, AIAB granted PitchPrez and Shinkei Systems awards of $10,000 each to help kickstart the next great AI ventures. "This year's winners were selected based on their original ideas to utilize data and machine learning, specifically AI, to creatively advance their startup concepts into viable products and services for the fishing industry and personal improvement marketplaces," says Mark Purk, Executive Director of Wharton AI & Analytics for Business.
PitchPrez, founded by Jack Zhang, a Master's student studying mathematics, is a digital speech coach. Users upload videos of their speaking performance and PitchPrez uses deep learning methodologies to analyze the speaker's posture, enunciation, pitch variation and more, before providing feedback on how to improve. Zhang says his venture was inspired by a group of engineering friends who confided that their presenting skills could use some help. With PitchPrez, now his friends – and anyone else presenting – can receive meaningful feedback in a timely and informative way.
The goal, says Zhang, is to take the success PitchPrez has found in helping engineering professionals like his friends and scaling it up to the large speech-coaching sphere, helping everyone from students to C-suite level executives. "I think we're probably going to be using the money from the Wharton AI for Business Award to try and find some people who might be interested in helping us with the biz-dev side, the sales side. We can handle the product, but in terms of time optimization, it might be better for someone else to then go and market it."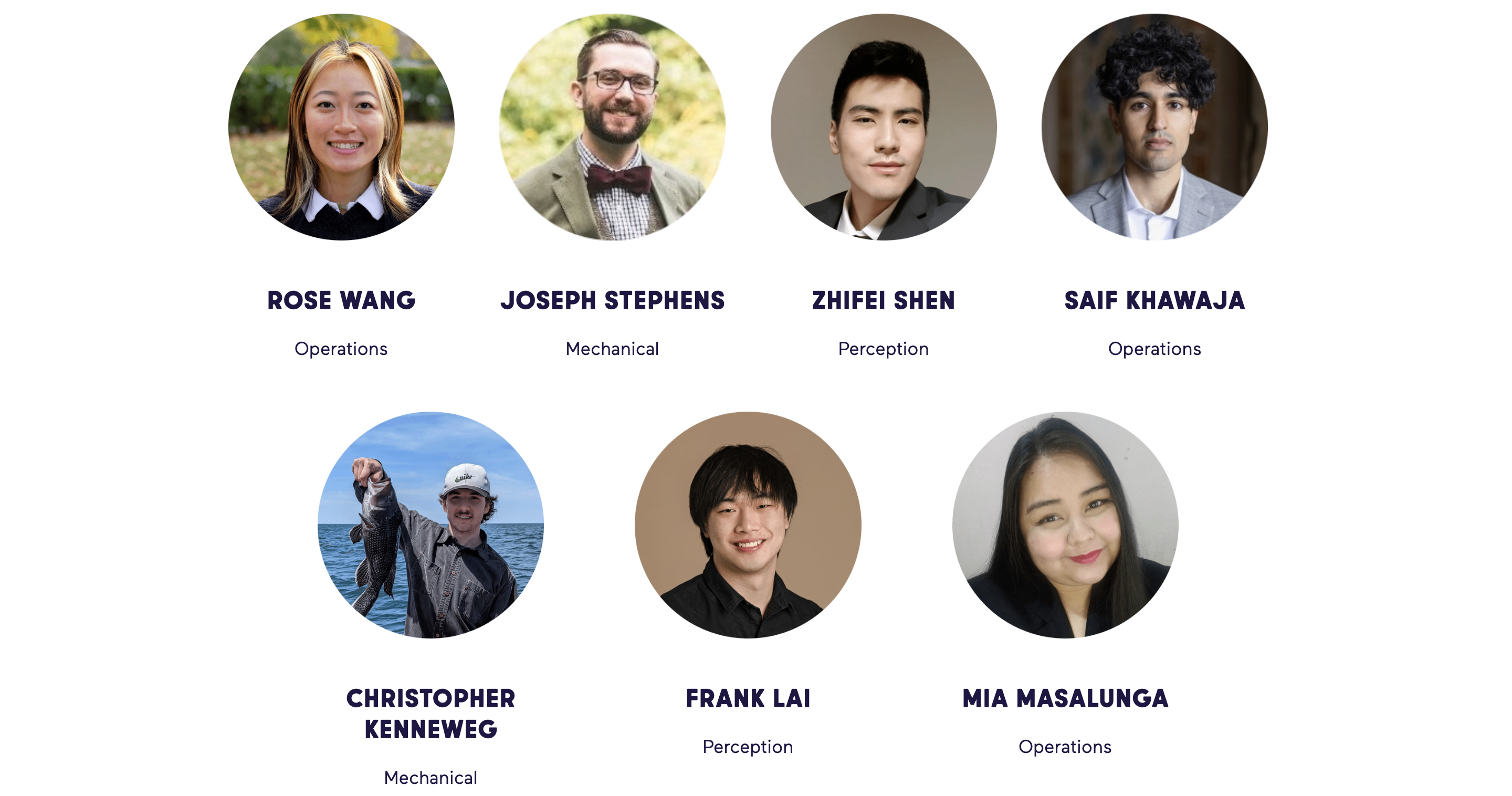 Shinkei Systems builds robotics that help minimize fish waste and multiply fish shelf life. "Right now, when you walk into Trader Joe's or Whole Foods, most of those fish have been thrown on the decks of boats and left to suffocate," says founder Saif Khawaja, WG'22. "[That's] pretty stressful for the fish, terrible for meat quality…in Japan, they have traditional techniques that are very similar to halal or kosher for cattle, but for fish. You basically let the fish dry-age instead of rot. We build robotics that automate these techniques, so all of your fish come at sushi-grade to a mass market retailer."
Khawaja started working Shinkei Systems a little more than one year ago, and the venture has already grown to a team of eight. While Wharton AI for Business is not the only source of funding for Shinkei Systems, the money awarded through the Venture Lab Startup Challenge will prove vital in their continued growth. "We do use machine learning to train the models to process whatever imagery we're using for the machinery," says Khawaja. "This is kind of a hardcore problem to solve, and the way that we've been allocating money is basically pumping as much as we can into R&D. [This award] quite literally covers two months of lab rent for us, which is amazing."
While both ventures harness the power of AI in different ways, they impressed the judges all the same.
"With Shinkei Systems Corp, the team demonstrated the need to improve the robotics dissection aspect of the process with additional fish data points, essentially continuous model improvement with more data," says Purk. "PitchPrez, demonstrated the ability to use unstructured video data to improve real time feedback to participants. We are thrilled to support both of these dynamic 2022 Venture Lab Startup Challenge finalists."