Wharton Annual Analytics Conference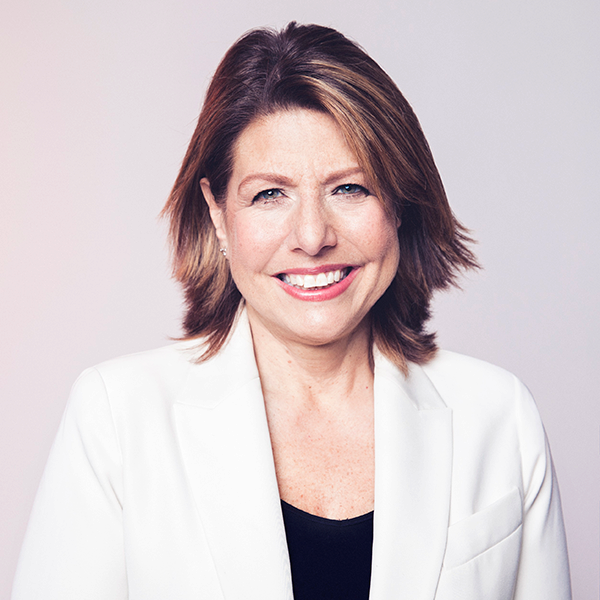 Jamie Moldafsky, chief marketing and communications officer for Nielsen, was the keynote speaker at the 2021 Wharton Annual Analytics conference, a virtual event focused on sharing industry best practices and the latest research insights from data analytics.
Moldafsky joined Nielsen in November 2020 and is responsible for all product and brand marketing and communications. In her role, she is committed to the company's mission of using data to drive positive change. With its depth and breadth of data, Nielsen has a unique lens on the vast media landscape and understands what consumers want at a granular level, she said. The company is deploying that information in ways that help content creators and providers respond to ever-evolving consumer tastes.  
The following is an edited transcript of Moldafsky's keynote speech.
Data Analytics as a Source of Truth and a Force for Good
It's great to be with you all today, and I'm really excited to talk about data and analytics – a source for truth and a force for good. Something that is very near and dear to my heart. It's a consistent theme in my own career, and I think very topical in today's world.
When companies go wrong, it's often around not listening to the data, and not staying focused on the truth, and not taking the right action.
Whether you're a general manager or a marketer, focusing on the "so what," asking the right questions, listening to the data, and always, always representing the truth is what makes companies strong. When companies go wrong, it's often around not listening to the data, and not staying focused on the truth, and not taking the right action. Good marketers not only use data but take action based on that data.
Nielsen, as with many in the data world today, is looked at as both a source of truth but also under fire when that truth does not align with any one desired view. At Nielsen, we measure and see everything in the media world of consumption and the consumer. It gives us a unique perch from which we're able to help inform, advise and partner with the rest of the media ecosystem. We have a high responsibility because while we don't create content, we have a huge role to play in what content is created. Therefore, finding truth in the data is so critical because it ultimately influences what you see and hear.
Nielsen's 'Unique Perch' in the Media World
Let's zoom back out and talk a little bit about the world today. The events of 2020 and 2021 including the racial injustices and unrest, have continued to bring into public discourse the partiality and inequities that exist in our society.
I believe we have a moral obligation as business leaders and data analytics professionals to use our expertise as agency for positive change.
I believe we have a moral obligation as business leaders and data analytics professionals to use our expertise as agency for positive change. It's a very cool time to be in data and analytics, but the responsibility to use our skills as a force for good is a real one. This plays out on global stages in U.S. politics, and in the arts and entertainment world.
As we zoom back into media and entertainment, let's look at the 2021 Grammys and the Oscars where the focus was not just on who won but on where those industries were going as a reflection of society. It was all about diversity and inclusion and whether the industry and the culture at large are representative as they should be. So, the challenge is not only how does the media industry and the culture demonstrate that it's inclusive, but how is that progress going to be quantified. I posit that data analytics is going to play a critical role going forward. Audiences expect inclusion and are seeking out content where they feel seen. Stories that reflect diverse experiences are in more demand than ever.
With an objective view, Nielsen has a responsibility to show the entertainment and media industry how others view, perceive, and engage in their content. We ask ourselves: how can the use of data and analytics affect systemic change? Of course, we're asked primarily to understand what consumers are listening to and watching. That is job No. 1.
However, we also go a level deeper and ask: What media are people consuming? Where, why, and how is that changing? This is about ultimate accountability to help reflect and inform. We've seen all kinds of statements and commitments passed by companies and corporations, but now action is being demanded. We created things that felt right, or people seem to like, but it is becoming increasingly science driven. Companies want to know what people like, what people are watching, and know how they feel with certainty, with truth. And that is when the data and insights come in.
Making Sure Every Voice Counts
The sources of data at Nielsen are exhaustive and comprehensive. We report over seven terabytes of data daily from every device across television, digital, audio, and other aspects of the media space. Consumers spent a total of over 1 trillion minutes a week on media across TV including streaming, radio, and digital. We know what has been watched and listened to, and we measure that for the industry.
We calibrate big data with household panels that Nielsen uniquely offers and that brings another level of truth to who we are as humans and what we care about. These panels enable us to link metadata with real individuals and families to understand the granularity of who is consuming what every minute of the day. Nielsen's employees use trusted and fair data science principles and spend millions of dollars to ensure that every person is represented in our measurement. We are the currency of the media industry and a neutral objective source of truth. And that requires us to be sure everyone is counted.
Nielsen's panels are high-quality samples that are geographically and demographically representative of the TV household universe, including hard-to-reach populations in poor, urban, and rural areas, different race and ethnic backgrounds, and gender identity across the U.S.
This is critically important and has led Nielsen to become strong advocates of the U.S. Census. You might think, why? But everything we do is fundamentally built on the Census. It's the foundation for all our audience measurement.
We recruit our panels proportionately to the Census. We don't measure citizenship, we measure audiences. To maintain the integrity of the data on the population of our country, it's essential that we count everyone. That makes all the difference. With the politics of the citizenship question on the Census, the undercounting of minorities was a real possibility. Minority groups could be undercounted, hard to locate, hard to contact, hard to persuade, and therefore not complete the Census. Undercounting could introduce bias and reduce the quality of our data infrastructure, which then fuels the media industry's knowledge of who is watching and what they're watching.
Sometimes staying true to the truth and making sure your data is as accurate as possible requires you to take a stand and do things that you otherwise might think are beyond the purview of your particular mandate.
In this case, it required us to take a strong position. We established Project TrueCount in 2019 to support a fair and accurate 2020 Census. We've been very public about the criticality of every voice being heard. Furthermore, we enlisted 10,000 employees, many clients, and 200 nonprofit partners to help participate in the Census. Nielsen also filed an amicus brief in the U.S. Supreme Court to oppose the citizenship question. Sometimes staying true to the truth and making sure your data is as accurate as possible requires you to take a stand and to do things that you otherwise might think are beyond the purview of your particular mandate.
Going Deeper on Inclusion
Now that I've talked about the importance of panels and the power of combining data insights, I want to look at a specific example. We have a product and offering called Gracenote Inclusion Analytics that allows us to peel back the onion of inclusion from a media standpoint. We talked about how important that is to take what we're seeing, which is an increasingly diverse population, and understand what role it plays in media consumption and content development. In this case, we merge datasets. We have industry leading Gracenote global video program metadata, which means we have the data that underpins all the programming guides around the consumption of video, music, and sports.
We also have studio systems, celebrity, race, and ethnicity data. When you search on video and audio streaming services for a song or a movie, we collect all that data about the artist, the timing, the genre, the ethnicity and race of the actors, and the producers. Then we marry that with our own Nielsen TV ratings and streaming video-on-demand content ratings data. This combination delivers new proprietary metrics that help us assess the degree to which different identity groups are featured in programming and whether that's reflective of the audience at large. These insights provide a comprehensive view of who is on screen and in the audience, and how that compares to society at large.
Having the right data, asking the right questions, and being willing to share the truth is imperative.
I talked a little bit about the importance of ensuring inclusivity in the panel by using Census data and ensuring that all people are counted. Let's dig deeper into inclusion analytics. Having the right data, asking the right questions, and being willing to share the truth is an imperative, and the following is a great example of how we brought that truth to bear for the benefit of the content producers in the industry. Let's look specifically at how having the right data can lend insight into truth-telling that ultimately can affect systemic change.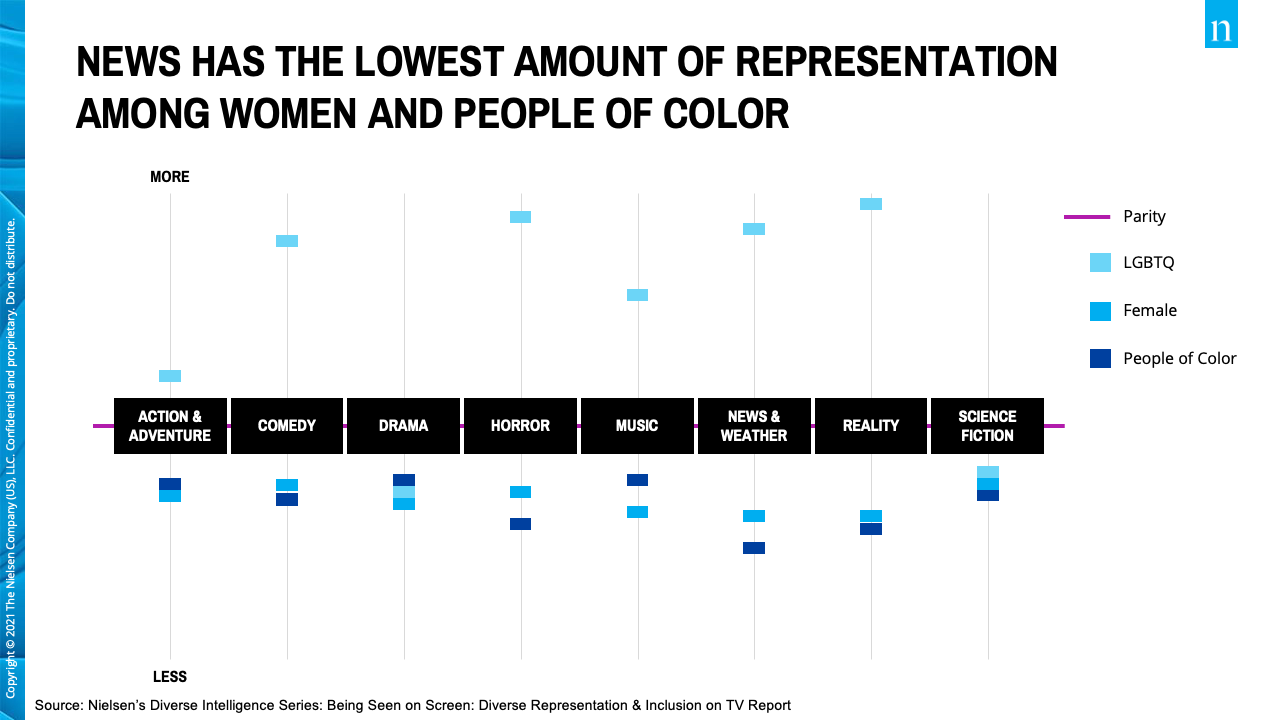 In this graphic, we see that all genres have a lower representation from women and people of color, but news has the lowest amount of representation among these populations. What's interesting about that is over the last few months most of the networks have started using more women covering the White House. It's been a very conscious effort to have more women in the news media on the screen. The same is true of people of color. These studies are starting to not only demonstrate the inequities but are informing and changing them. By providing this reflection back to the media industry, the media industry is able to take action. Whereas before it might have been subjective, it now becomes fact based and objective, and the data insights lead to real changes that create greater equity in the system.
Reflecting the Truth
I'd also like to look at how data can point out inequities in a way that also shapes the content. We talked about representation in terms of newscasters, but it's also important to understand the content itself. How does that shatter stereotypes if it's shaped differently?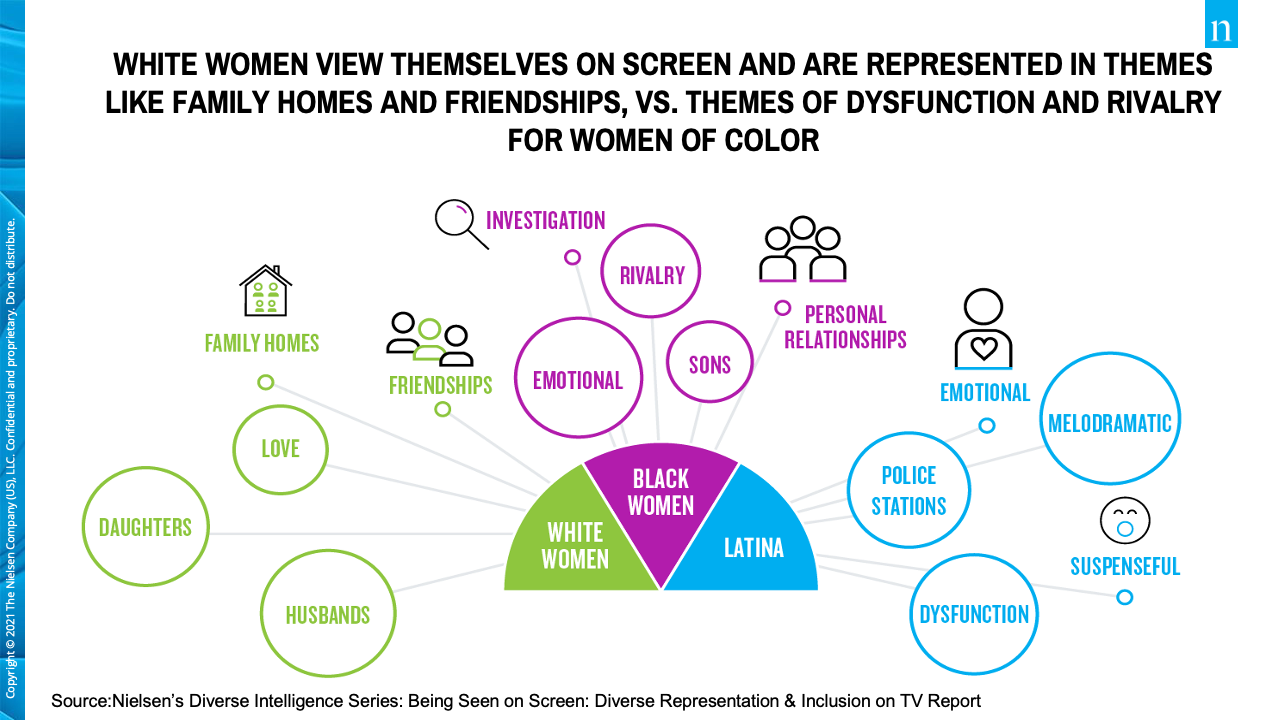 When white women view themselves on the screen, they are represented in themes like family, homes, and friendships versus themes like dysfunction and rivalry for women of color. If you look at this critically, it's not just if diversity is present but how is it present.
In an example using a popular drama series, Black women in that series have a 40% share of screen for this program. Black women are only 7% of the population. The inclusion opportunity index is 546, which means Black women are very well-represented for this program. Now interestingly, the video descriptors for this program include themes like romantic dilemma, hilarious, thought provoking — different from most of the prominent themes we see in content where Black women see themselves most. This is obviously where you would want to see things changing, where people are seeing themselves in ways that are positive and engaging, which in turn leads to more people seeing the content. That's the good cycle of when people take the insights that the data has made available and use it to inform the creation of content.
Based on the previous example, you can see that it's not just looking for a box to be checked, but what these shows do in terms of breaking a stereotype. What goes on off-screen is determining what goes on-screen. Nielsen is positioned to help the industry create lasting change. As a measurement company, we understand that measuring disparities also makes them actionable.
We think this is a really good example of doing the right thing throughout the entire value chain – the right data, the analytics, having a point of view, and holding up the mirror for the industry to see itself as the consumer experiences it.
In a society that is increasingly fragmented and perhaps skeptical, truth is a valuable commodity and the great equalizer.
At Nielsen, we believe that audience is everything. It is critical we play our role to measure and reflect what is happening with consumers and their engagement in media, to appreciate the cultural shifts that affect consumers, advertisers, broadcasters, agencies, studios, and the world at large, and to do our part. Nielsen sits at the interesting intersection of culture, media, and consumers and is the voice of truth for the media industry. In a society that is increasingly fragmented and perhaps skeptical, truth is a valuable commodity and the great equalizer. As we sit here today, we take on the responsibility of being that source of truth but, hopefully, also a force for good. When we do that — as a data and analytics professional, as a marketing professional, as an executive, and as an industry — it's when we're at our best.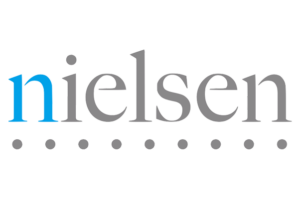 Nielsen is a global data and analytics research company, providing measurement, planning, outcome, and content solutions to the media industry. The company operates in nearly 60 countries, employs 2,000 technology and data scientists, and serves agencies, advertisers, broadcasters, content creators, distributors, and innovators.
About the Wharton Annual Analytics Conference
In partnership with Analytics at Wharton and Wharton AI for Business, AI and Analytics for Business hosted the Annual Analytics Conference virtually on May 3-7. This week-long virtual event featured talks from business analytics leaders and showcased cutting-edge research from top academics.