Wharton AI & Analytics for Business
Updates
AI for Business Invests in Wharton Startup, Félix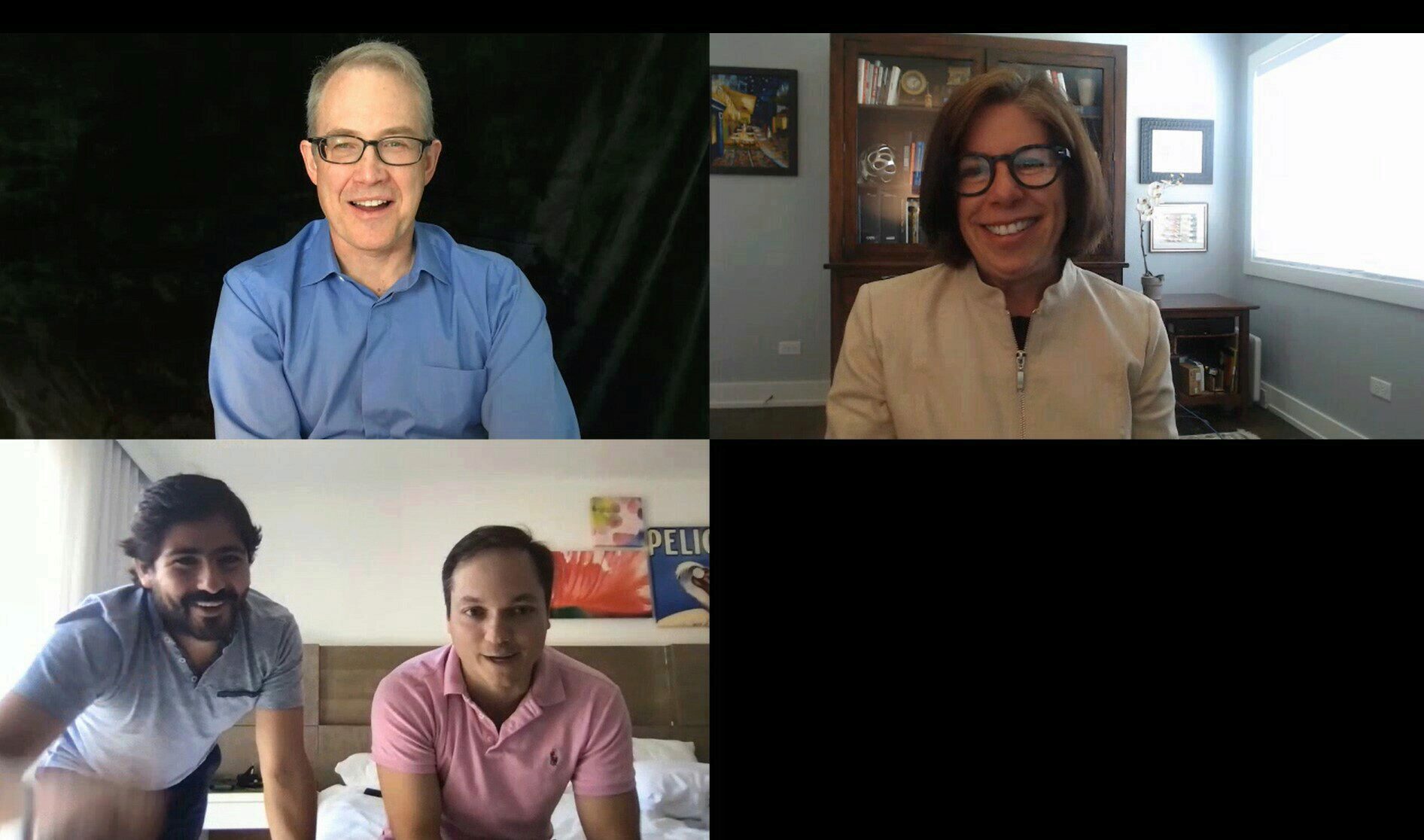 Technology is a critical component of Félix, a chat-based platform for sending money from the United States to Mexico that will launch later this year. However, founders Bernardo Garcia and Manuel Godoy believe trust in the product is just as essential.
While brainstorming their business plan, the recent Wharton MBA graduates recognized that trust is the biggest barrier in reaching many Spanish-speaking consumers who are skeptical of English-language apps that are too expensive, ask for too many inputs, and aren't always convenient. Félix will use natural language processing (NLP) and other artificial intelligence (AI) features to simplify and automate transactions, along with humans who can help customers when they need a real person.
"It was through the iteration of building and breaking things, that we realized this is not about the technology," Godoy said. "This is about helping folks to have better service, and them having that confidence and that trust in us to make sure that we deliver for them."
Their thoughtful approach has earned Godoy and Garcia the inaugural AI for Business Award, sponsored by Wharton's AI for Business, and the Innovation Award. The partners won after entering their plan for Félix in the 2021 Venture Lab Startup Challenge, a competition that showcases the brightest entrepreneurial minds across the Penn community.
It's the marriage of technology and trust that makes Félix so innovative.
Mary Purk, executive director of Wharton Customer Analytics and AI for Business, said it's the marriage of technology and trust that makes Félix so innovative. The business model addresses an important gap in the market and has the potential to capture it. Remittances from immigrants in the U.S. to family members in Mexico account for 4% of Mexico's gross domestic product.
"For us, the big hook was they stayed very close to solving an immediate need for a very large population," she said. "Instead of really focusing on the technology, they wanted to make sure they could meet the customer where they were, in the state of mind that they were in, and continue to communicate with them in that culture, that language."
Lowering Barriers, Increasing Trust
Garcia, who is from Mexico, and Godoy, who is from Venezuela, met through the Wharton Latin American Student Association and became fast friends. Both have bachelor's degrees in engineering and have experience working for tech-forward businesses (Garcia at Uber and Waymo, and Godoy at MicroSilicon). But it was their shared experience as immigrants that helped crystalize the idea for Félix, whose name is borrowed from a New York City restaurant where some of the brainstorming happened.
"We both have struggled, on the one hand, sending money to family and friends whenever they need it and, on the other hand, receiving money whenever we need it as students," Garcia said.
There are a number of international money transfer apps already available, including Xoom, Wise, and MoneyGram. But Félix is different because it isn't an app. It piggybacks onto WhatsApp, the most widely used messaging app in Mexico and most of Latin America.
"We realized that we could do an end-to-end transaction via WhatsApp, and this required zero barriers for adoption for people," Garcia said. "Because to get them in the door to just at least start a conversation with us was a matter of one text."
Félix uses cryptocurrency technology and AI to send money as fast as Venmo or Zelle.
Through Whatsapp, customers reach the Félix chatbot to message about the transaction. Félix uses cryptocurrency technology and AI to send money as fast as Venmo or Zelle for a flat fee. If something goes wrong during the transaction, the customer can message for help through WhatsApp and get an immediate response.
The founders said that safety net helps foster trust, especially among unbanked populations so critical to Mexico's economy.
"This remittance money is just gas money that the economy needs to move," Garcia said. "Just in the case of Mexico last year, it was the largest source of GDP, so you can imagine how important this is. It's not money for fun or for extra stuff, it's money that people use for food, for clothes, for the most essential needs."
Wharton professor Kartik Hosanagar, who is faculty director of AI for Business and helped select Félix for the AI for Business award, said using cryptocurrency technology is a "smart" way to lower the cost of remittances, and he's not surprised to see other startups also trying to use it. He also praised the founders for customizing a solution to the unique needs of the LatAm market.
"Much of their success will depend on their ability to come up with product features that make it simple and intuitive for their customers to use the app," Hosanagar said. "The chat feature seems to be an important element of making the service easy to use and is a meaningful AI application. Without AI use, providing real-time chat support will be very expensive, and such costs will defeat the point of using cryptocurrencies to reduce the cost of remittance."
Taking the Leap
Garcia and Godoy said winning the awards and getting so much positive feedback from the Penn community and outside stakeholders has boosted their confidence and encouraged them to continue along the entrepreneurial path. After graduating with their MBAs, they made tough decisions to decline lucrative job offers and pursue their shared dream of launching Félix, which is currently in the pilot stage. They've nearly reached their goal of raising $1.5 million and have assembled a small but mighty team of employees. Initial plans for Félix will focus on remittances to Mexico, with an eye toward expanding throughout Latin America.
The business partners said they believe that having a co-founder – and the support of their wives – is key not only to balancing the workload, but to sharing the fears, frustrations, anxieties, and joys that come with building something from scratch.
"Your business partner needs to be in this journey with you. Launching a venture requires a leap of faith," Godoy said. "I can rely on Bernardo for everything. I have that trust, but also, we can make this work together. And obviously the team that we're assembling makes us more confident that we can build something that we can take out there and it can be successful."
Think big, do the research, and seek out the right resources like those offered by AI for Business.
When asked what lessons other inspiring entrepreneurs can learn from Godoy and Garcia, Purk recommended following their top-down approach: Think big, do the research, and seek out the right resources like those offered by AI for Business.
"They're out there solving a big problem that has not been addressed, and they have a really strong knowledge base about the contextualization of that problem," she said. "They are subject-matter experts around the problem that they are trying to solve."
— Angie Basiouny