From Captive to Captivating – Redefining the Customer Journey Model 
Using k-means, a simple clustering methodology, AI and Analytics for Business (AIAB) and C Space have developed a new process for companies to identify the types of relationships they have with their customers, and how to most efficiently improve them.
The New Customer Journey Model for Companies
Customer experiences can extend far beyond the simple exchange of goods. A large part of purchase behavior is subjective, and occurs in the context of the emotional relationship between companies and their customers. Together, AIAB and C Space have quantified the strength of customer-company relationships, measuring a significant correlation between the measure of a company's customer-centricity and its performance.
In analyzing these relationships, AIAB and C Space also proposed a novel company journey framework in which companies can evolve from having a mostly transactional relationship with their customers to one that is emotionally relevant, providing the mechanisms for improving customer-centricity.
C Space originally developed a methodology, the Customer Experience Code (CXC), for quantifying a given company's customer-centricity using the average of responses to customer experience questions.
Faculty-led students at AIAB then built upon this initial approach, utilizing k-means clustering on C Space's CXC data from 2016 to 2019. Their efforts helped to minimize repetitive information, group companies with similar customer experiences, and provide actionable paths for companies to reach the next level of customer-centricity.
Together, AIAB and C Space trimmed the CXC questions from more than 30 down to 10. By focusing on the questions that best illustrate the differences in a customer's experience, the data reveals clearer insights and diagnostics for each company on their journey towards customer experience excellence.
The final result is a customer-centricity journey separated into four discreet levels:
By ascending from one group to the next, companies can build upon strong principles of customer-centricity. Furthermore, this growth yields real business implications: on average, a company's Net Promotor Score (a common customer satisfaction metric) is observed to increase by 15 points every time they ascend to the next level of customer-centricity.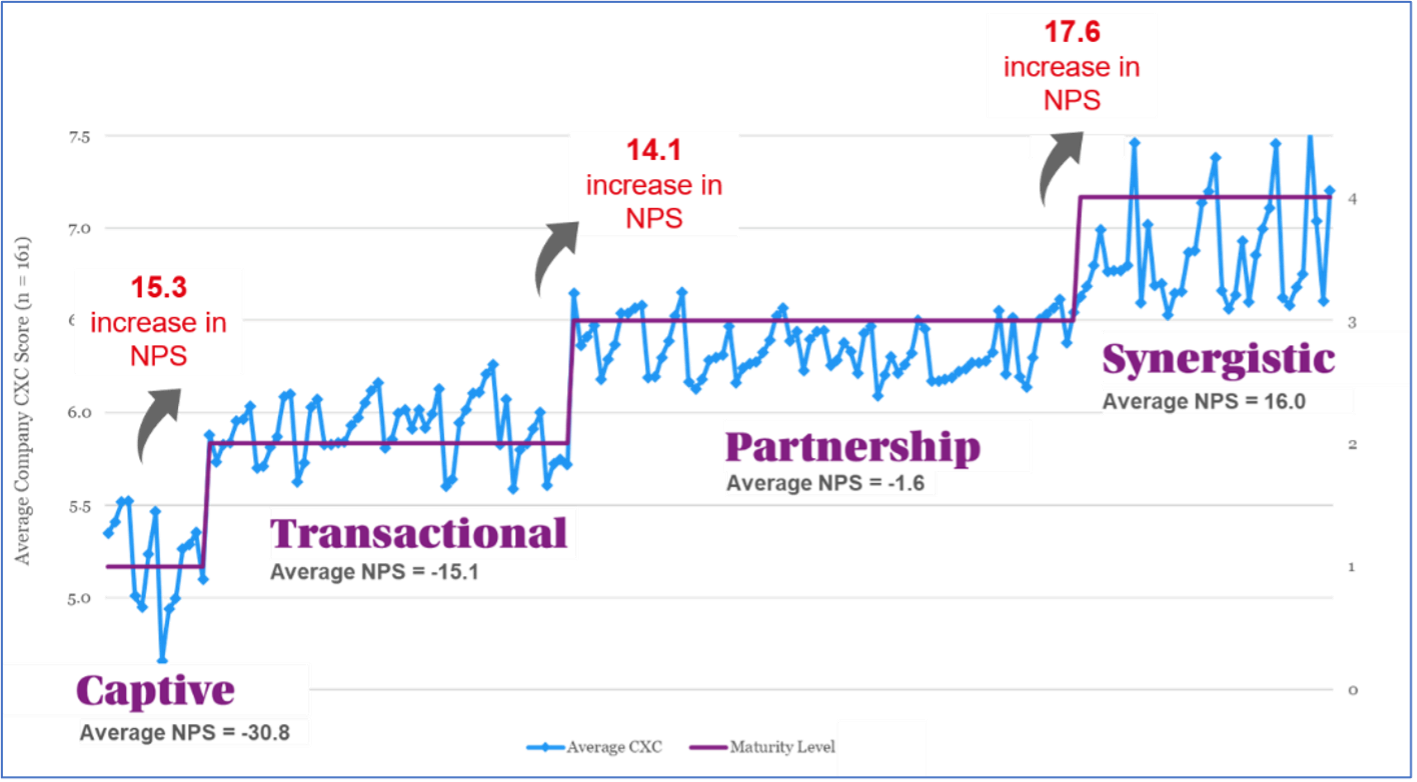 The Impact of the New Customer Journey Model
The case of Company X, a real organization, illustrates the value and impact of the new customer journey model. Company X originally used the initial CXC methodology and was identified as having a Partnership relationship with its customers. The enhanced AIAB methodology, however, revealed that Company X had been misclassified, and customers had a purely Transactional relationship to Company X.
Not only does the new customer journey model accurately categorize a company's customer-centricity, it also identifies the specific areas in which a company needs to improve in order to grow to the next level. For example, Company X excels in many areas of the total customer experience, but needs to improve upon establishing feelings of "trust" and "pride." Due to the specificity of the new framework, Company X can focus its time and energy on improving parts of the customer experience that are most lacking, rather than trying to improve aspects in which they already succeed.
To read about the new customer journey model in its entirety, click the link below.