AI and Analytics for Business
Updates
AI and Analytics for Business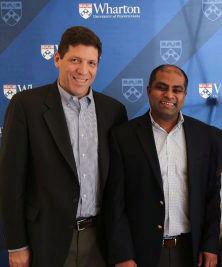 The Wharton School of the University of Pennsylvania announced the establishment of Analytics at Wharton, uniting the School's five trail-blazing teaching, research, and industry engagement programs:
• AI and Analytics for Business Initiative (AIABI), which focuses on analytical methods to further business intelligence for companies centered around granular customer-level data
• Penn Wharton Budget Model, a nonpartisan, research-based initiative that provides accurate, accessible, and transparent economic analysis of public policy's fiscal impact
• People Analytics, which uses data to help organizations make smarter decisions about people by understanding the character, culture, collaboration, and careers at their organizations
• Wharton Neuroscience, which develops new technologies that can collect and analyze novel forms of behavioral data at the nexus of business and brain science
• Wharton Research Data Services, an award-winning research platform and business intelligence tool used by corporate, academic, governmental, and non-profit clients at 400+ organizations worldwide
Analytics at Wharton will be supported by Eric Bradlow, with the creation of a new senior leadership position at Wharton, the vice dean for Analytics. As the K.P. Chao Professor and Professor of Marketing, Economics, Education, and Statistics and the chair of Wharton's Marketing Department, Eric will step down as the co-faculty director effective today but will serve in an advisory capacity to AIABI. We are incredibly grateful and honored by the leadership and vision Eric has provided for AIABI as the co-founder and co-faculty director for the past 11 years.
Raghu Iyengar, Miers-Busch, W'1885 Professor of Marketing at The Wharton School, will become the leading faculty director of AIABI. "I am thrilled to lead AI and Analytics for Business under the new commitment from Analytics at Wharton to expand our relationships with students, researchers, and corporate partners and champion experiential analytics education in the areas of big data, machine learning, and artificial intelligence," stated Iyengar.
In addition, AIABI will assume a new name, AI and Analytics for Business (AIAB). "We are thrilled to be able to work closely with Raghu Iyengar's vision and leadership that will accelerate AI and Analytics for Business programming and thought leadership to apply innovative customer analytics models to solve challenges and leverage the opportunities for students and businesses on a larger scale and with broader reach," commented Mary Purk, executive director of AIAB.
Join us next week on May 15-16 at our 9th annual conference, Successful Applications of Analytics: How Analytics Drives Disruption, and congratulate Eric Bradlow and Raghu Iyengar in person. For more information, visit ai.wharton.upenn.edu.