AI and Analytics for Business
Updates
Are You Collecting the Right Data? Lessons from American Apparel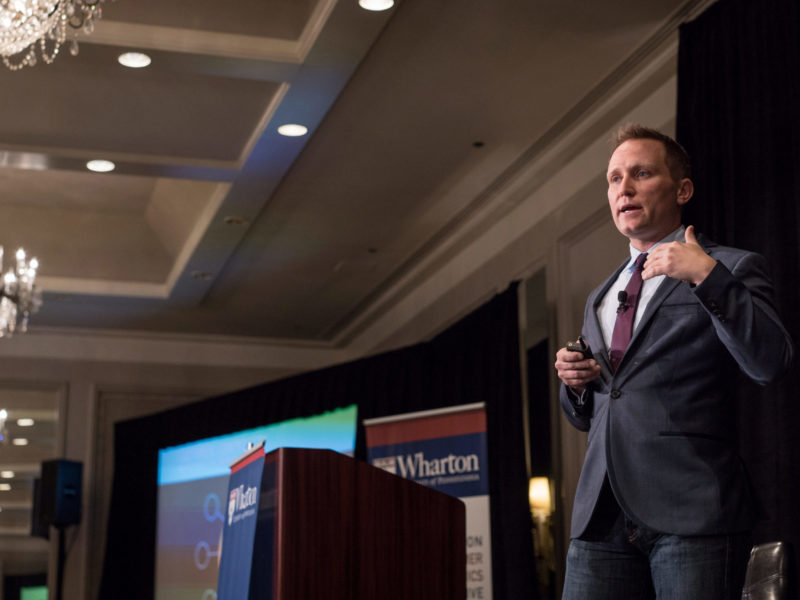 How many Facebook likes and Instagram followers does your company have? How about memberships, or downloads? As these numbers grow from hundreds to thousands to millions, you may assume that your business is riding high. Apparently your customers love you, and there are many more to come.
But according to Thoryn Stephens, the chief digital officer at American Apparel, measurements like these can constitute what he calls "fake or false metrics." They may be distracting you from underlying problems, or untapped potential. Instead, businesses need to focus on "the true metrics that drive value," he said at the recent AI and Analytics for Business Conference.
Looking Under the Hood

Stephens gave an example of a business — a startup he had worked at — that had neglected to look beyond so-called false metrics. "This company was renowned as the darling of Silicon Beach," he noted. "This was a few years ago; the tech scene was just starting to emerge in Los Angeles." He said this company had "all of the flashy metrics" that look good on paper: over 2 million Facebook followers, 10 million members and millions of customers.
But if one looked "under the hood," said Stephens, the recency and frequency of these customers was very low. In customer analytics, recency means how recently a customer purchased something, and frequency is how often a customer buys. Actual buyers, said Stephens, turned out to be a "sliver of a percent" of the business's presumed customers.
Stephens then assessed the realized customer value (RCV) of everyone in the customer file, which meant calculating their acquisition cost and contribution margin. Many users came up at negative thousands of dollars.
"This was because these users were serial exchangers and returners," Stephens explained. "They would buy our product and cyclically wear it once or twice and send it back. There were literally thousands of them … it was absolutely crippling the business." The information was swiftly applied by the company to revise its return and exchange policy.
Stephens used another example, from his position at the Fox Network group, to illustrate how going deeper with analytics can yield actionable insights. At Fox, Stephens was the director of audience insights for Fox Broadcasting, FX Networks and Fox Sports.
Using a statistical tool called cluster analysis, Stephens grouped audiences into four major buckets based on their behavior: "watchaholics," the highest-value bucket; casual viewers, international users, and at the lowest level of value, the passive users.
The "watchaholics" was the highest-value group, said Stephens, because they were driving a tremendous number of video ad views. He analyzed their behavior and helped tailor marketing communications such as emails and push notifications to keep this group engaged.
Stephens said he could have stopped there, but did not. "It was really the group at the bottom — the passive users — that was interesting to me." He discovered that while they were not watching a large number of video ad views, they were visiting Fox's website frequently. Why was that? Stephens found that they were going from the home page directly to the broadcast schedule, essentially using the site as a TV guide. Armed with this insight, he created a collection function, placed near the schedule, so users could enter their email address to be notified when favorite shows were airing. This of course yielded valuable information for Fox about these previously anonymous users.
"It flipped the valuation curve a little bit on its head, because while I was supporting the hundred-plus million-dollar digital business, the reality is that the billion-dollar business was within the passive users that were actually driving broadcast eyeballs," said Stephens.
He added, "It's not 'are you collecting data,' it's 'are you collecting the rightdata, and reporting upon the right data, and driving insights from that?'"
American Apparel's Customized Marketing
Stephens, who manages five teams across 15 different markets — a total of about 40 people globally — said that at American Apparel, he focuses first on acquisition, or driving traffic; digital experience, or converting that traffic; and retention, or keeping consumers returning in a cyclical pattern. "That includes loyalty, call center, email and so forth," he said.
He explained that he views consumers as three different types: unknown, anonymous and known. Unknown and anonymous users can be driven to become known — and thereby more valuable to the business — through what he terms a "conversion event." This could be a registration, perhaps through social media; a purchase event; or downloading the company's app and thereby registering.
Audience development is a big priority for Stephens: He called it "where the rubber really meets the road." He and his team take customer data gleaned via email, phone, device or cookie and match it to social profiles on Facebook, Instagram and Twitter to deliver customized ads.
Moreover, he said, he has partnered with the social software platform Sprinklr to glean additional insights about customers. Data from American Apparel.com, the company's email service provider, and its e-commerce provider are fed into Sprinklr's social CRM to yield custom audience segments. One key segment is "lookalikes," which means potential customers whose behavior resembles that of known high-value shoppers. A second segment is dormant email subscribers, who can be approached with activation campaigns to drive them back to the website to re-engage.
A third segment is customers who have clicked "Add to Cart" but did not purchase. Stephens said that while many companies execute their "re-targeting" with these customers by sending an email within a day or two, American Apparel is using social media such as Facebook instead. "You Add to Cart and within literally a period of seconds you'll get a different targeted dynamic ad, essentially based on you as a consumer." The ad might include a discount code for the item.
'True Omnichannel'
What's ahead in American Apparel's digital marketing world? Stephens aspires to achieve "true omnichannel" which he defines as "tailoring the right message, through the right channel, to the right person, at the right time." He gave the example of the Starbucks mobile app which integrates the company's loyalty program with quick and easy payment. "The ability to press a button and get your cup of coffee provides tremendous value to the consumer, and ultimately that translates to the value of the business."
For retailers such as American Apparel, said Stephens, omnichannel can be described as "the intersection of retail with digital." He asked the audience to envision a scenario in which someone would walk down the street and trip a geo-fence (a mobile service that lets marketers send messages to people's cell phones when they enter a defined area). The user would then receive a push notification which drives them into the store, and they would make a purchase.
He described another marketing possibility involving radio-frequency identification (RFID). RFID tagging is already used in retail, he said, but primarily to reduce shrink (inventory that is lost, stolen or damaged in transit). In fact according to Stephens, American Apparel was one of the first organizations in the world to deploy a global RFID solution. But he is now exploring customer-facing applications.
One application would be to integrate American Apparel's real-time inventory with mobile devices. "The concept is you could walk up to an American Apparel ad [on the street] … tap your phone, and then a screen will come up and you can get into a dialogue with a text bot." The bot would show you a product description and check sizes and colors available nearby. For instance you might learn that "the Melrose store has size three jeans in black denim, dark indigo and gray." In a further instance of omnichannel, you could purchase right there on-screen and go to the selected store to pick up, or choose to have the item delivered. "I'm really excited about testing this," Stephens commented.
Another innovation involves super-fast fulfillment. This functionality actually went live in March after American Apparel developed a relationship with Postmates. (Stephens described Postmates as "like an Uber, for delivery.")
"They came to me about six months ago with the concept of using their on-demand delivery service for … core basics. So we tested into New York and San Francisco, and saw a really interesting adoption of consumers that were about double the average order value we would see across some of our markets." The program was then expanded to over 30 markets.
The on-demand delivery innovation made headlines, according to Stephens. Among many articles, "there was an interesting piece by Huffington Postwhere a woman in New York actually tested it… She didn't get her bodysuit in 60 minutes; she got it in 41. Which is insane."
Who exactly needs on-demand basic wardrobe pieces, asked Stephens? "I guarantee, and I've seen this empirically when I've asked this question to a room full of millennials, they all raise their hand. In the age of Amazon, people want things immediately."
In fact, Stephens said, the Postmates experience "opened up a door with Amazon," which he believes is where the true scale is going to occur.  "Amazon came to me immediately after this went viral, and said 'Hey Thoryn, why don't we test into same-day delivery?'" (He joked that his response was, 'Oh, same-day, that's so long.'") American Apparel is currently testing same-day delivery in Tokyo and San Francisco. "I guarantee you will see on-demand fulfillment everywhere in the coming months and years," said Stephens.
Looking back at his career so far, Stephens noted that "there's no shortage of technology, there's no shortage of data, at every organization I've ever been at." He said that the true shortage is of business leaders who know how to use that technology and data to drive value.
This post was originally published by Knowledge@Wharton, you can view it here.