AI for Business Featured in Fall/Winter 2021 Issue of Wharton Magazine
Analytics at Wharton's AI for Business plays a prominent role in the Fall/Winter 2021 issue of Wharton Magazine. Written by award-winning journalist Deborah Yao, the article "The Future of Business" touches upon the significant role AI will play in shaping the future of business operations, and the pitfalls we should seek to avoid as this technology grows.
Chief in illustrating the awesome ability AI has to transform industries was Kartik Hosanagar, Faculty Co-Lead, AI for Business. "Even though the field has been around for 50 years, in many ways, it's only just getting started, because finally, you have the data and computing power wherein AI can thrive," he says. "AI is the next phase of digital transformation…We're trying to see how we can help the next generation of managers, students, and practitioners in the industry navigate this transition."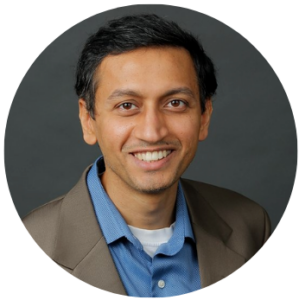 Kartik Hosanagar
Faculty Co-Lead, AI for Business
Click here to learn more of Kartik's thoughts and read the article in its entirety.
About Wharton AI for Business
Wharton AI for Business (AIB) is bound to redefine every industry vertical. Innovative methods for data collection, content creation, and large-scale automation are opening new opportunities for business along with unseen implications for companies, consumers, and society. Through research and experiential learning engagements, we work with companies to transform business thinking, translate research findings into actionable insights and implementable solutions, and teach students AI. AIB is part of Analytics at Wharton, which unites the School's trail-blazing teaching, research, and industry engagement initiatives that use data to improve decision-making and generate actionable business insights. For more information, visit https://ai.wharton.upenn.edu/.